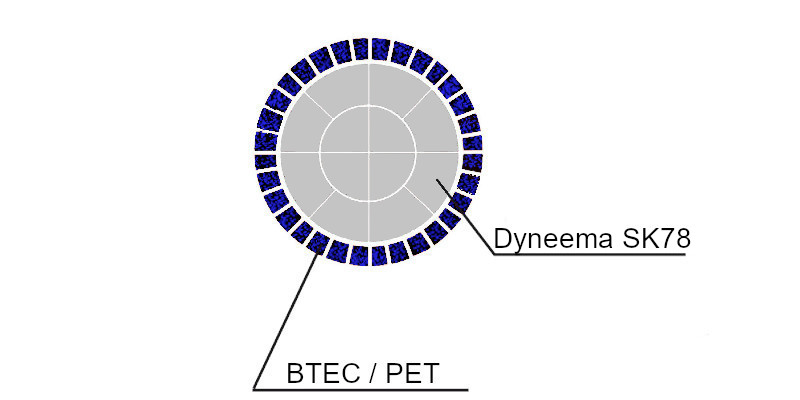 GAMMA_COLORI: NOT FOUND:
CORE
DYNNEEMA SK78 STD
. .....
The excellent
creep
qualities combined with a
tenacity
of 35 cn / dTex and a
module
of 1140 cn / dTex allow to build a very resistant and reactive line, dedicated to
maneuvers subjected to high static and dynamic loads
.
Thanks to the low
specific weight
of 0.974 kg / dm3 the rope is extremely light.
In the
STD version
, the
core is not resin-coated
to further reduce weight.
COVER
BLACK TECHNORA / POLIESTERE
It is a
technical cover
dedicated to
high loads
,
temperatures
and
frictions
.
Thanks to the
Black Technora inserts
it is
excellent resistance to abrasion and continuous work
.
The
high temperature tolerance
point is excellent, guaranteeing a
peak resistance of 380 ° C.
The friction coefficient of 0.12
gives excellent grip both in the hand and on winches and stoppers.
The
tenacity of the cover
of
16.5 cN / dTex
guarantees good efficiency on winches and chokes.
The
range of colors is wide
thanks to the polyester components that make the maneuvers easily recognizable.
---